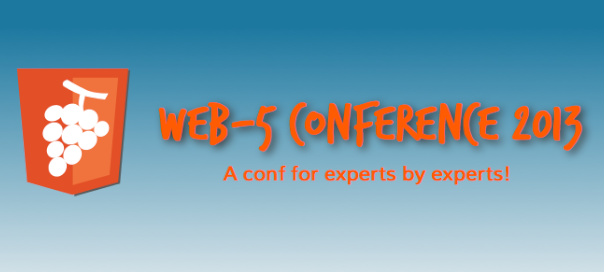 Date et heure
14/06/2013 - 15/06/2013
Toute la Journée
Localisation
IUT Béziers
3 place du 14 Juillet
34505 Béziers
France
Le Web-5 Conference 2013 prend place sur deux jours à l'IUT de Béziers pour un total de 28 conférences présentées par 30 speakers dans deux amphithéâtres distincts. Pour suivre les conférences, le compte Twitter @web5_conf ou les hashtags #web5, #web5conf et #web5_og !
Le tickets d'entrée s'élève à 150 euros.
Conférences du vendredi 14 juin 2013 :
Julien Pauli – PHP in 2013
Corinne Krych & Fabrice Matrat – Hybrid Mobile App in Minutes, Not Days
Marco Pivetta – Doctrine 2 ORM and Zend Framework 2: an introduction to DoctrineModule
Juozas Kaziukėnas – Process any amounts of data. Any time
Philippe Sam-Long – Enyo 2, a javscript framework designed for mobile diversity
David Pilato & Tugdual Grall – Elastify your app: from SQL to NoSQL in less than one hour!
Patrick Aljord – Introduction to AngularJS
Alexandre Morgaut – From Web App Model Design to production with Wakanda
Filipe Moura – Web App as a multi large network manager
Conférence de samedi 15 juin 2013 :
David Rousset – Les défis d'une application mobile multi-devices HTML5
Tugdual Grall – Getting Started with Couchbase Applications Development
Marco Cedaro – Zombie Code
Lyle Troxell – Get the server-side out of the way with WakandaDB
Tom Dye – Wireframes to Widgets – An enterprise journey
Morten Nielsen – Breaking REST rules – experiences from a heretic REST api
Arnout Kazemier – Observing observer
Ulrika Malmgren – Amplify your awesomeness with testing
Lionel Chanson – Injections sql ou 1=1 est plus que jamais True
Bastian Hofmann – Measuring and Logging Everything in Real Time
David Larlet – JavaScript et Python : un duo de choc
Martin Shwalbe – Continuous Deployment
Matthieu Faure – Accessibility: automated testing of Javascript
Xavier Cambar – Tools that tell about you
Retrouvez les interventions en vidéo sur la chaîne YouTube Web5Conference.